Paul Janes-Brown Curtain Call Review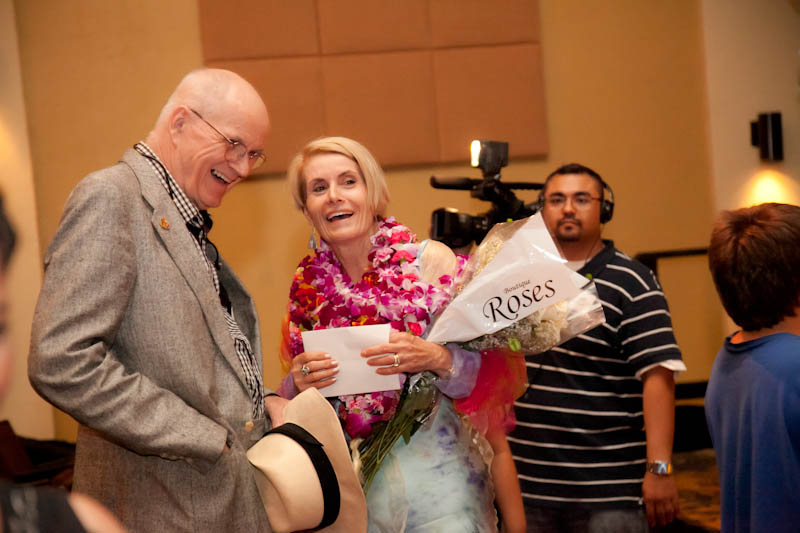 Paul Janes-Brown, Tess Cartwright and Alberto Rojas following the world opening of the Garden of BE, September 23, 2011
(CURTAIN CALL) (PiP-PJB)
J: PLAYWRIGHT TESS CARTWRIGHT HAD A DOUBLE BIRTHDAY ON SEPT 23, HER BIRTHDAY AND THE BIRTHDAY OF HER NEW CHILDREN'S MUSICAL, THE GARDEN OF BE. PAUL JANES-BROWN WAS THERE AND HAS THIS REVIEW.
PJB: WHEN YOU GO TO SEE TESS CARTWRIGHT'S GARDEN OF BE, AND SEE IT YOU MUST, BE PREPARED TO TAKE A TIME MACHINE TRIP BACK TO YOUR CHILDHOOD. CAST OFF ALL YOUR ADULT WORRIES, NO BAD ECONOMY CONCERNS, POLITICAL INFIGHTING, COLLAPSING BANKS AND HOME VALUES, ONLY THE SIMPLICITY OF A CHILD WANTING TO BE ACCEPTED FOR WHOM HE IS.
THE THEMES CARTWRIGHT EXPLORES RANGE FROM BULLYING AND DISCRIMINATION TO RECYCLING AND UNIVERSAL LOVE AND RESPECT. ON THE WAY WE ARE TREATED TO SOME WONDERFULLY SIMPLE LIVE MUSIC, ELEMENTAL DANCE AND A PUPPET.
THE CHARACTERS ARE THE BLUES AND REDS AND THE YELLOWS, THE PRIMARY COLORS AS WELL AS JACQUELYN CASSANDRA, A WHIMSICAL BIRD PUPPET EXPERTLY, REALIZED BY LEE GARROW DOING A MARVELOUS JOB WITH THIS CHARACTER WHO ACTS LIKE AN OBSERVER AND NARRATOR.
IN THE ROLE OF THE LOST LITTLE YELLOW, NOAH MAGBUAL POSSESSES A CONFIDENT PRESENCE, A FINE, MUSICAL VOICE AND STRONG EXPRESSIONS WHICH WORK PERFECTLY, WITH BIG YELLOW, THE WONDERFUL GENIE CALAGNA.
THIS IS THE ROLE THE STATUESQUE CALAGNA WAS BORN TO PLAY. YOU MAY REMEMBER HER AS KATE IN MOS'S TAMING OF THE SHREW MEETS STAR WARS LAST SEASON. SHE WAS GREAT IN THAT, BUT WHEN SHE COMES ON THE STAGE YOU CAN FEEL THE LEVEL OF THE PROCEEDINGS LIFTING OFF.
SHE IS SO ENGAGING, YOU ALMOST WANT TO JUMP UP ON STAGE AND JOIN HER IN DANCING AND SINGING. CALAGNA IS A POWERFUL PRESENCE WHO USES IT TO COMMAND ATTENTION WITHOUT DOMINATING OR INTIMIDATING, NO MEAN FEAT. SHE LEADS BY EXAMPLE AND GETS THE OTHERS TO CHANGE BECAUSE OF IT.
TOWARD THE END OF THE FIRST ACT, IT IS BED TIME. BIG YELLOW HAS A DREAM THAT IS SO GOOD, THEY REPRISE IT AGAIN TO OPEN THE SECOND ACT. IT'S DONE TO A HENDRIX-LIKE ELECTRONIC RECORDED RIFF THAT IS SO DIFFERENT FROM THE REST OF THE MUSIC IN THE SHOW, IT'S JARRING, BUT IN A GOOD WAY.
THE PLAYWRIGHT, IS ALSO ONE OF THE MOST CREATIVE VISUAL ARTISTS ON MAUI. FOR AS LONG AS I'VE REVIEWED THE ART OF TRASH, HER WHIMSICAL CREATURES AND PLANTS RECYCLED FROM PLASTIC BOTTLES HAVE BEEN AMONG THE BEST PIECES IN THE SHOW. LATELY, SHE HAS BROKEN THROUGH TO ART MAUI, SO IT IS NOT SURPRISING THE QUEEN OF ARTISTIC RECYCLING WOULD WANT TO CREATE A SET THAT IS 99% RECYCLED. FOR THIS SET, DESIGNER CARO WALKER HAS CREATED HER MOST IMPRESSIVE SCULPTURAL INSTALLATION TO DATE. THE MAGICAL WORLD OF BE FEATURES A VOLCANO, WATER/LAVA FALL, ENCHANTED GARDEN AND A BIG ROCK, EARNESTLY CREATED BY SAL LAGATUTTA, JOSEPH DUNCAN AND SYLVER EBIRIEKWE. THE ALWAYS EXCELLENT SHARLEEN LAGATUTTA PLAYS THE VOLCANO.
MY FAVORITE MOMENT IN THE SHOW IS A HAIR-ESQUE AUDIENCE PARTICIPATION NUMBER SAY IT, SAY I LOVE YOU. IT IS SUCH A WARM AND ENGAGING SCENE THAT I DEFY YOU NOT TO RESPOND WHEN THEY GIVE YOU PERMISSION TO SAY THOSE THREE WORDS THAT ARE BY NO MEANS NOT LITTLE.
THE COSTUMES, BY THE FABULOUS MARSHA KELLY, SHOW WHY SHE HAS THAT ADJECTIVE BEFORE HER NAME, ESPECIALLY, THOSE IN THE GREAT CONDUIT. THEY ARE AMAZING.
ALY CARDINALLI, THE CHOREOGRAPHER, PUT TOGETHER A WELL-PREPARED ENSEMBLE AND CREATED EVOCATIVE MOVEMENTS FROM JOE DEROSE'S CHILDREN'S TUNES.
STEVEN DASCOULIAS DIRECTED THIS PROJECT AND CONDUCTED THE EXCELLENT ORCHESTRA OF ANGIE CARR, JOHN MCMULLEN, JOSEPH MENDONCA, LUANA BAKER AND SILVINA SAMUEL. WORKING WITH A PLAYWRIGHT IN A NEW WORK IS ONE OF THE GREATEST CHALLENGES ANY DIRECTOR CAN TAKE ON. DASCOULIAS AND HIS ASSISTANT, FORMER BROADWAY STAR ROMA CARLISLE, SHOWED THEY WERE UP TO THE TASK. BRAVO.
THE PLAY RUNS UNTIL OCTOBER 2 SO DON'T MISS IT.
WELL THAT'S CURTAIN CALL FOR THIS WEEK, I'M PAUL JANES-BROWN, A HUI HOU. NEXT WEEK THE GREEN SHOW AT THE HUI AND PATRICK DOUGHERTY'S AMAZING STICK SCULPTURE. SEE YOU AT THE THEATER. STAY TUNED FOR COMING ATTRACTIONS RIGHT AFTER THESE MESSAGES.